Who We Are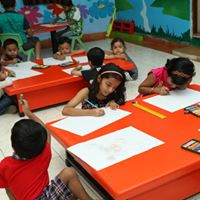 Vision
Our Vision is a community where all children feel loved, respected and encouraged to develop to their fullest potential.
Our program is planned to promote positive growth in the lives of all children. We will adopt a holistic approach that enables each child to develop their social, physical, emotional and intellectual abilities. We know that each child is unique and special.Early childhood experiences are instrumental for a child's overall development in later life. Our program will promote and maintain a safe environment that creates an opportunity for children to develop and grow in a positive manner through appropriate role modeling.
Mission
Our Mission is to provide high quality education and childcare in a safe, respectful and inclusive environment that builds a foundation for life-long learning.
Our center provides
the following services
Frequently Asked Questions
1. What are the admission requirements?
No child will be admitted to any class without a copy of the Birth Certificate. Original Birth Certificate is required for classes I and above. Application forms will be available from the School Office. SUBMISSION OF AN APPLICATION FORM DOES NOT GUARANTEE ADMISSION. Admissions are made against vacancies .It is purely on first come first basis. The latest School report must be submitted along with the Application Form. Pupils who join the School in Std. 1 and above should submit a Transfer Certificate from the previous school. For Jr.KG and Sr.KG Bonafide /Leaving certificate is required.
2. What are the extra-curricular activities?
3. What if I am late for picking my child up?
4. What should I do if my child is sick?
5. What should I do if my child loses an item?
6. How is admission determined?