Play Group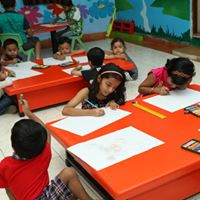 This program is suitable for children in the age group between 1.8 to 2.5 years and love new experiences and benefit from developing sensory, social and communication skills through activities at playgroup.
Children start to explore the world around them as soon as they are born. At Empower Kinderland, the play group curriculum enables children to continue their exploration.Your baby may be a social butterfly or the type that prefers to play on their own and that is perfectly fine. Each child has their own approach towards developing their social skills.
Children advance skills in core pre-academic areas such as literacy, math, and science, as well as in other essential areas such as art, social and emotional well-being, and health and wellness.
Our center provides
the following services